A Client-Centric Focus
This process starts in the most obvious way. It all starts with getting to know you.
Laying the Foundation
Understanding Needs and Goals allows us to bring all the pieces together.
Understanding You
To help you, we need to know you. We do this by investing time to understand your business and management vision. Where did you start and how did you get to this point?
Where Are You?
Once we understand where you started, we look at where you are now. The successes and struggles. We answer the questions: What do you do well? What are your key issues? The list continues to get a sense of where you are now and what your capacity limits are.
Where Are You Going?
Where do you want to be? How much growth do you plan, not only in revenue and sales, but people, equipment, and market share? What is the vision of the future?
What is Blocking You?
Here is where most companies start and stop. They are transactional; they are focused on a service and problems, not a partnership.
To be effective for you, we can't afford to be simply transactional in our approach. To provide value and help you grow, we have to look at the past, present, and future to recommend the best path for you.
Performance Enhancement System

This is why our system is more successful than others. We take a wholistic approach, and we don't focus on a project. We are not transactional-based. We want to be a long term resource and business partner for you. One that focuses on growth and performance increases.
Our process is designed to get at the heart of your problems, or "pain points," to uncover items that are holding you back—systems or processes that restrict growth. We have proven time and again that our system promotes better flow for employees, processes, information, and systems. This in turn creates a better experience for your clients and drives growth in sales, a reduction in costs, and an increase in both profits and margins.
OYBI's Proven Process​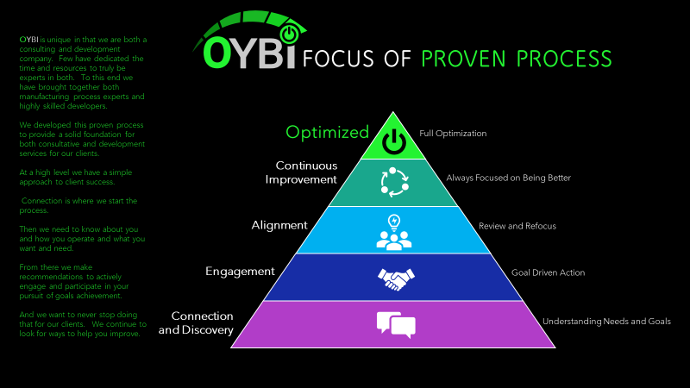 The Foundation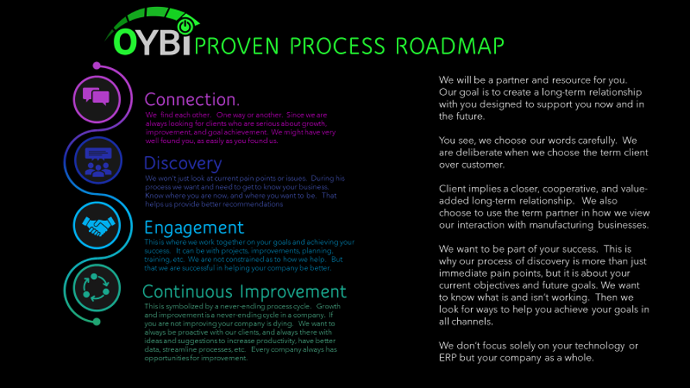 The Big Picture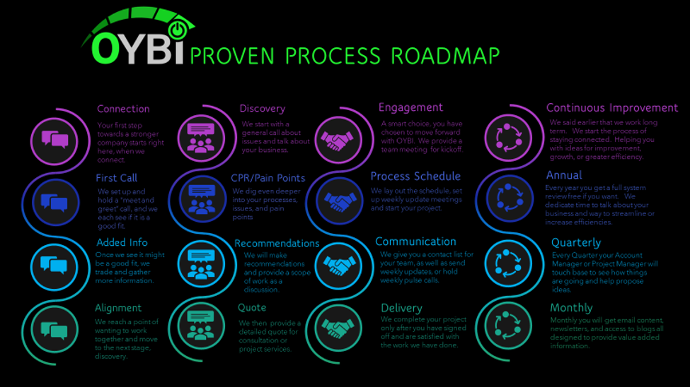 The Flow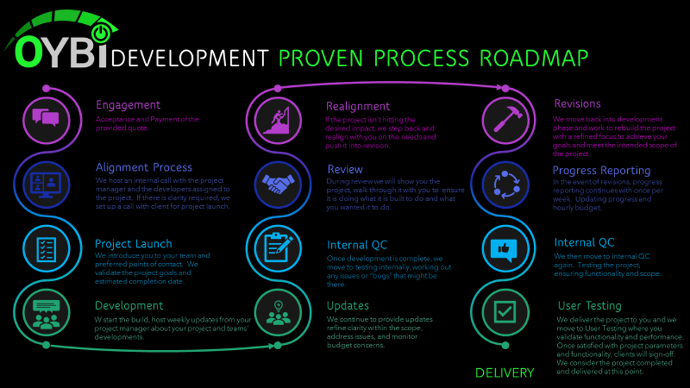 The Steps