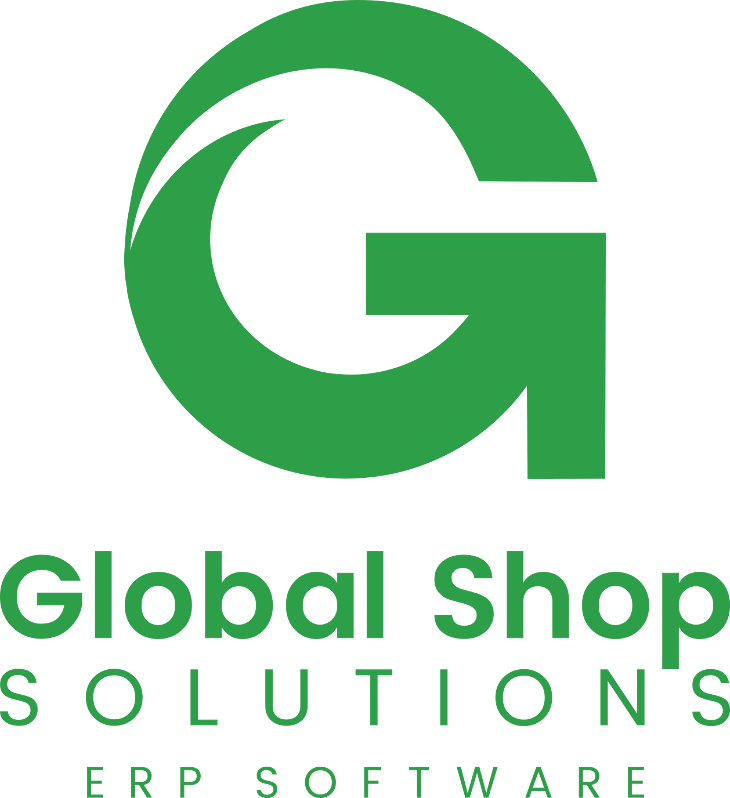 Growth
Improvement
Performance.
Your ERP's purpose is to improve process flow, data collection, and create accurate information for corporate decisions. To achieve those goals with your Global Shop ERP platform, you will need to continually invest in improvements, customizations, support, and training. Like any tool, to have it work its best and be its most efficient requires an investment in time, money, and resources.
Time Is A Mission Critical Asset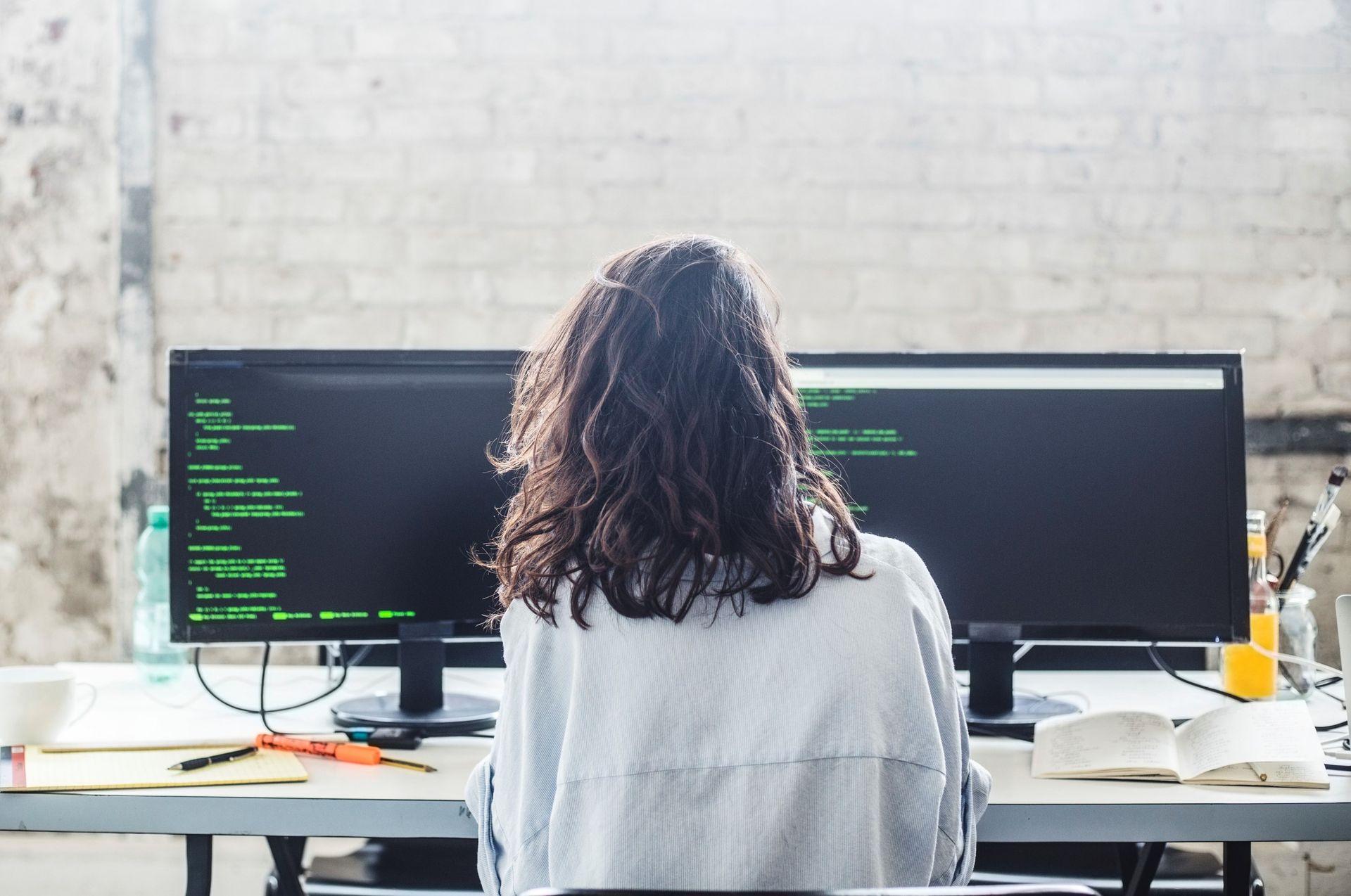 Time Lost Is Opportunity Lost
Time wasted means sales and revenue lost. When you identify a mission-critical need for your system, such as an improvement, modification, integration, or training, can you afford long delays in a company gathering information, conducting discovery, and presenting a quote?
Every hour is critical, which is why we commit to our clients to have projects quoted in days, not weeks. Projects are completed in weeks, not months.
We understand how important time is to you and your business. The longer the delay, the more you lose.
Time should not to be Wasted
Our Quote Commitment Time Line
12 Hour Average

16 hours from time of RFQ to having a Quote in hand.
2 to 3 Weeks

Average Back Log to start a Project
2.67 Weeks

Development Time
This can vary on size of project, this is our average for Global Shop Projects
7 Weeks Total

Total Time From RFQ to Delivery
We will go from Discovery to Quote in a week, take 3 weeks to start, and another 3 weeks to deliver for on average
Many companies have difficulty getting quotes completed in six to seven weeks. Obviously, some projects will take longer; most take less time from quote to delivery. Being non-proprietary means that we are never trying to preserve how our system is built. As a manufacturing consulting company with extensive knowledge and experience with Global Shop, it is our goal to be focused on your needs and desired outcome. We always work to use the system as built, and when that won't accomplish your needs, we will work to mold the ERP to your processes and needs through customization.
What Services We Offer for Global Shop
Training/Support
Your Team has to have the confidence, knowledge, and operational understanding as a base to truly get the most out of your GSS system.
Optimization
Is about ERP process flow mirroring your process flow, not customization. Ensuring it is properly configured and automated to maximize the system's level of efficiency and get maximum performance out of it.
Integration
Connecting data collection points and system processes to enhance your manufacturing is critical. Making sure those connections work and are configured properly can be vital to your efficiency.
Customization
When you need something that isn't part of the system, we can built that in GAB from scratch for you. It is a last resort, but an effective tool to ensure your system is giving you the performance, informational processes, and data gathering you need to succeed.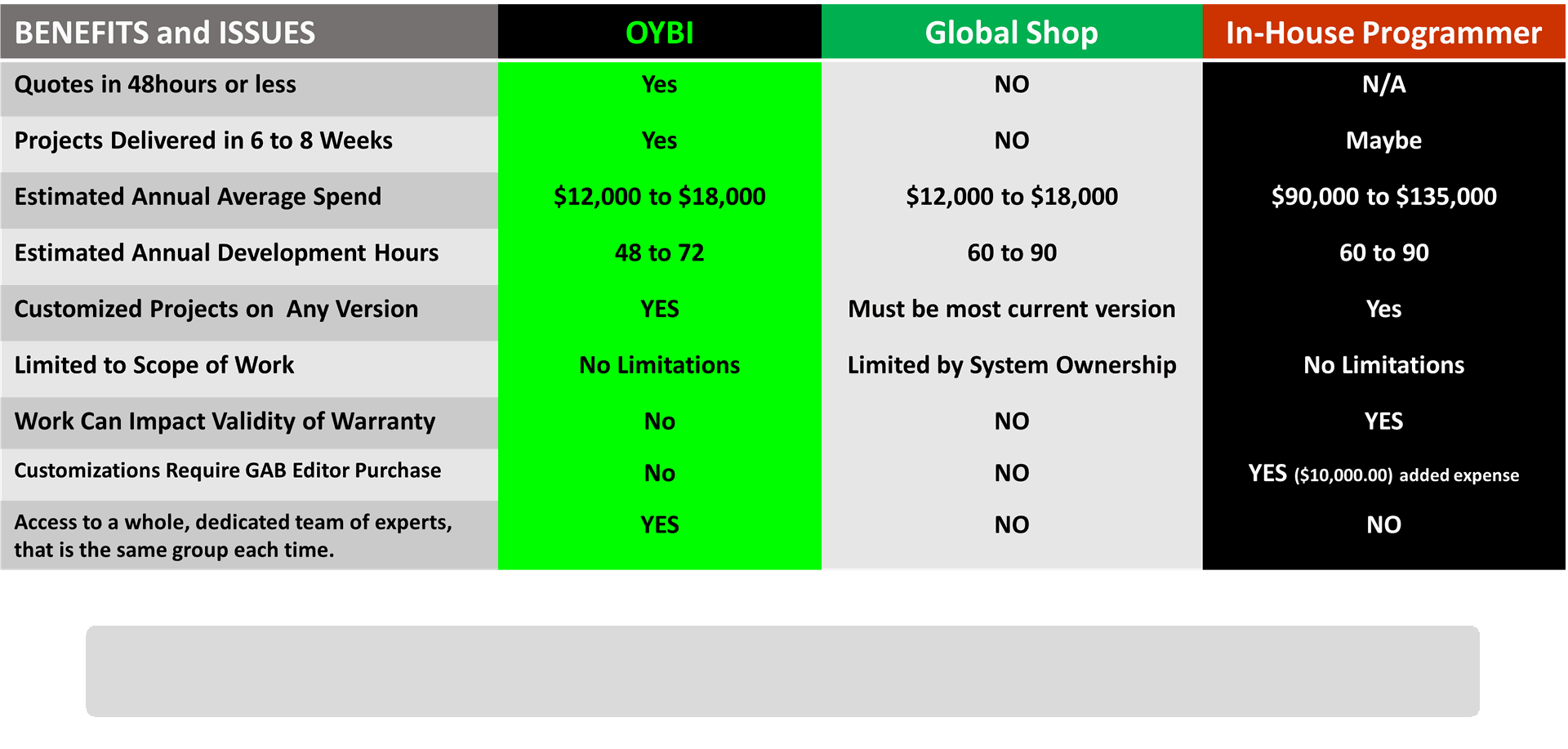 OYBI WINS
OYBI continues to complete the same projects in less time for our clients. We take to heart the idea that time is money, and we strive to not waste either for our clients. Our commitment to reasonable and realistic ROI for our clients drives every aspect of our proven process.